Our pets are members of the family, so it's important that we use the same natural products to care for them that we would our children and ourselves! Unfortunately, there are many conventional products for pets that contain harsh chemicals. That's why today, we wanted to share some basic tips on how to use the natural Young Living products to care for your pet naturally.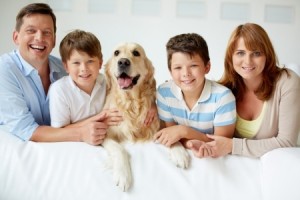 First, we recommend that you create a basic pet care kitthat includes Young Living Animal Scents Ointment, Animal Scents Shampoo, V-6 Massage Oil and first aid items, including  any medication, tweezers, cotton gauze pads, cotton balls, nail clips and bandages you might need.
Once you have the kit assembled, you can pack it along on trips or outings. If your pet visits a groomer, take along the shampoo for them to use. The first aid items are also great to have on hand just in case you find any fleas, ticks or mites on your dog or cat.
It's important to note that your family pet might be bringing home uninvited pests if you let them outside during the day and then bring them in for the evening, so be sure to protect them. We recommend that you try using Young Living's rose geranium essential oil on a dog collar to repel insects. Just one drop per week is all it takes! Be sensitive not to add too much, as it might irritate your pet.
Other great Young Living essential oils we recommend using for your pets include lavender, Thieves and Release. These oils can be used to help relax your animals and will keep them smelling great!
Of course, always consult your pet's vet before using any essential oils or conventional products if your dog or cat has health concerns. Also, we recommend that all pet owners avoid using citrus, oregano and thyme on cats.
In addition, always apply essential oils very carefully and use a very small amount to test out sensitivity the in the first use. Use the smallest amount possible. One to four drops is the most any pet needs in one application.
Final friendly reminders:
Use the smallest effective amount of essential oils to avoid irritation. Pets are (usually) smaller than we are, so they require less essential oil to fulfill the same purpose. Also, Young Living products are of very high quality and purity, so you won't need to use as much with each application.
You can dilute an essential oil in Young Living V-6 carrier oil to make your recipe go further. The carrier oil also makes a great massage oil to calm and soothe your pet.
Don't forget, Young Living makes products specifically for pets, such as an ointment and shampoo. When you first start out, it might be best to start with prepared products, then move on to making your own based on the specific needs of your animal.