When the cold weather has creeps in during the fall and winter months, many of us look forward to warm comfort food and a cozy mug full of something sweet.
If you're wondering whether Young Living Essential Oils can be used in your favorite hot chocolate recipe, then you'll love this tip: You can use your favorite Young Living Essential Oils to add a little something extra! The following recipe for hot chocolate can be made any time you need a warm, soothing treat on a cold day – or even to serve at holiday celebrations.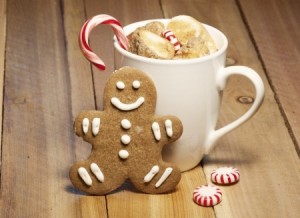 2 Tablespoons unsweetened cocoa powder
1 Tablespoon sugar
pinch of salt
1 Cup milk
1/4 teaspoon vanilla extract
1 drop of Young Living's Peppermint Essential Oil
1 candy cane
whipped cream
Directions:
1) Whisk the cocoa, sugar, salt, and 2 tablespoons milk in a small saucepan over medium-low heat, until cocoa and sugar are dissolved. Whisk and add the rest of the milk, and heat it over medium heat until hot.
2) Stir in the vanilla and Young Living's Peppermint essential oil. Top with whipped cream, sprinkle crushed candy cane and serve.
It's that easy! You can also substituting Young Living's Cinnamon Bark essential oil, for a twist on a classic favourite.